Summary Minutes of the Oak Brook Yamuna Summit
The Yamuna Summit 2007 was practically an invigorating meeting where a number of dedicated individuals gathered to pour their great ideas into one massive "Kolsi" (Clay Pot) to create paths and filters to bring life back to the Yamuna River. It was held on May 5, 2007 at the Oak Brook Library Auditorium, Oak Brook, IL , to develop the plans and programs (paths and Filters) for restoration of the Yamuna River near New Delhi, India.
The meeting was organized by Yamuna Foundation for Blue Water, with active support and coordination from India Development Coalition of America (IDCA), Willow Brook, IL.
Attendees: Anil Kumra (Gurgaon, Haryana, India); Dennis A. Haag (Linwood, KS); Gordon A. Ferguson (Downers Grove, IL); Harish G. Rao (Barrington, IL); Hema Shende (Wheaton, IL); Kul B. Razdan (Olympia fields, IL); Mahendra S. Bapna (Hillsdale, IL); Prakasam K. Tata (Naperville, IL); Praveen K. Bajaj (Lisle, IL); Raj Rajaram (Oak Brook, IL); Ram Koduri (Naperville, IL); Sam C. Pitroda (Oak Brook, IL); Sharad S. Deshpande (Batavia, IL); Subijoy Dutta (Crofton, MD); Sundaresan Subramanian (Bloomington, IL); Timothy J. Somers (Winfield, IL); Vivek Singhal (Oak Brook, IL).
1. Project Introduction: The meeting began with a brief introduction of the Project by Dr. Raj Rajaram, who provided a synopsis of the Yamuna cleanup effort and the brief purpose of the Summit.
2. Participant Introduction: This was followed by a brief self-introduction of each of the participants. Various ideas and suggestions were provided by the participants as detailed later under Discussion.
3. Project Background: Subijoy Dutta provided the background of the Yamuna river cleanup effort and the present status of the project thereafter as summarized below:
This voluntary project involves an actual cleanup effort, on a demonstration scale in Phase I, to remedy the massive pollution created by the overland flow of sewer system effluent from the greater Delhi and Agra area to the Yamuna River in Northern India. A map showing Cities and Towns in the Yamuna River watershed is shown on Figure 1.
Why Clean Up the Yamuna River?
An estimated 70 percent of India's total surface waters are polluted. Out of India's 3,119 towns and cities, only 217 have even partial sewage treatment facilities. The direct discharge of the untreated sewage in the surface water course is one of the major causes of high biochemical oxygen demand (BOD) in most streams and rivers of India. A 48-kilometer stretch of the Yamuna River, which flows through New Delhi, contains 7,500 coliform bacteria per 100 cc of water before entering the capital. This ill-fated and transformed Yamuna receives an estimated 225 million gallons of untreated sewage every day from the greater Delhi area and leaves New Delhi carrying an inconceivable 24 million coliform organisms per 100 cc or 240,000 coliform bacteria per cc. That same stretch of Yamuna River picks up 5 million gallons of industrial effluents, including about 125,000 gallons of DDT wastes every day. The upstream towns have no impact on water quality at Delhi - the Nazirabad Barrage blocks the Yamuna River in the northeastern part of Delhi and the water is diverted for irrigation. The Najafgarh Nala (drain) becomes the 'Yamuna' flowing down on the East Side of New Delhi. The four-year drought in India, which reached crisis proportions in 1987, forced larger portions of the population to consume unsafe water, and as of late 1987, more than 1700 people had died and 684,000 were ill from severe diarrhea and other water borne diseases (Data from an article by Mr. James Gustave Speth, President, World Resources Institute, 1709 New York Ave., NW, Suite 700, Washington, D.C. 20006).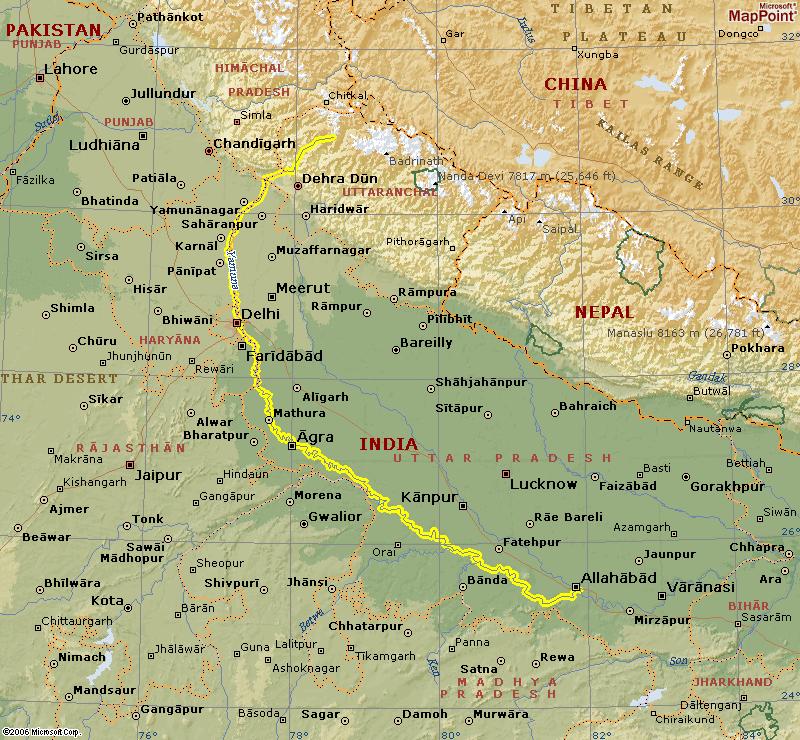 Figure 1. Cites and Towns in the Yamuna River Watershed.
The short and long term goals of the project are provided below:
Short Term:
To begin with a demonstration of various cost-effective treatment systems in the greater Yamuna river watershed, for treatment and removal of biochemical oxygen demand (BOD) and coliform bacteria. The proposed systems are expected to bring the BOD to a level of about 5-10% of the current levels.
Long Term:
The mass-scale remediation of the greater Yamuna river watershed by use of these low-cost treatment systems along the Yamuna and many similar sites in India and other developing countries.
Chronology of the Yamuna River Cleanup Effort:
1992 (Sep) – After reading the above cited article by Gus Speth (WRI) about serious pollution in the Yamuna River, Subijoy Dutta, an environmental engineer who grew up in India and designed a few low-cost wastewater treatment systems in Oklahoma thought about rendering assistance by providing low-cost treatment technologies and started collecting data on the validation of wetland treatment system for presenting to the Delhi Authorities. Mr. Dutta visited Delhi, walked all along the Yamuna river in the greater Delhi area and collected water samples and data from various points of the river as it flows southwards beginning from the Wazirabad barrage in Delhi to Agra area.

1993 - Dennis Haag, an wetland biologist and associate of Mr. Dutta visited Delhi and conducted detail site survey, site selection and looked into low-cost/biological solutions. With active enthusiasm and support of Delhi water supply and sewage disposal (DWSSD) authority, a complete design drawings and plan for 600,000 GPD system at the Khyber pass drain was developed by Mr. Haag and Dutta in 1993. The effort took about 6 months and involved developing professional engineering plans and drawings.

1995 – Dr. Ken Brakken joined the project and visited Delhi. Met with the then Chief Minister Madan Lal Khurana. A funding ($80,000) was promised by Mr. Khurana at a meeting in Delhi.

1995 Dec. - Total land requirement for the proposed wetland system was about 3.0 acres and the site (behind Metcalf house) was made available, but the Delhi authorities did not begin implementation of this funded and approved project. Several request from Mr. Dutta in Maryland and the local Lions Club in Delhi were made to start construction of the project but the Delhi authorities did not move forward.

1997 – Mr. Dutta and Dr. Ken Brakken went to New Delhi again, but the stalemate continued. Lions Club joined the effort with full support and people from Agra showed interest.

1998 - Later discussion with CPCB (Dilip Biswas) and others lead to exploring other alternatives to relieve the massive pollution load of the Yamuna by using aerators and other biological treatment systems.

1998 - Mr. Dutta had spent more than $35,000 (Rs. 16.5 Lacs) of personal funds by then in
pursuing this cleanup effort, and thought about writing a book to generate funds to support the Yamuna cleanup.
1999 (Nov) – Mr. Dutta visited Delhi, Mathura, and Agra area and observed more degraded waster quality.

2000 (July) - Formed Yamuna Foundation for Blue Water in Maryland, USA with active volunteers in the New Delhi and Agra area.
2001 – Provided active assistance to the victims of Gujarat Earthquake in 2001 (January). Sent a team of volunteers with food, water, and tents for providing relief to the earthquake victims.
2002 - Ganga- Yamuna Remediation Options – a meeting was organized at the Jawaharlal Nehru University, in New Delhi with active assistance from Dr. Brij Gopal . Enveloped in a sizzling summer environment with water level hitting a 15-year low at the Yamuna river, the Ganga -Yamuna Conference drew the water hearts of this capital city and many other dedicated individuals from Agra, Kolkata, Lucknow, and Mumbai. The Lions Club of Delhi Capital, District 321 A1, outnumbered all other organizations, including the Jawaharlal Nehru University (JNU), in the total head count from one single organization at this conference. (Ganga-Yamuna Summary)
2002 – Went to Agra area with Dennis Haag and Dr. Maury Albertson for the Kheitam Wetland (part of the Yamuna watershed) restoration effort.

2002 – Completed a book "Environmental Treatment Technologies for Hazardous and Medical Wastes: Remedial Scope and Efficacy by Subijoy Dutta, P.E., ISBN No. 0-07-043586-3, Tata McGraw Hill Publishing Co. Mar. 2002; www.tatamacgraw-hill.com
2004 – Provided assistance to victims of a major flood in Silchar, Assam, India

2005 – Provided assistance to victims of the Tsunami disaster in a village (Kichengkuppam) in the Nagapattinam area of South India.

2004 (September) – Presented information on the Deep Pond System (installed at Hyderabad) to Mr. Regunathan, C.S. Delhi, and Rakesh Mohan, CEO, DJB (Delhi Jal Board). They seemed to have liked the system but said that they don't have any land available to install the system.

2004 (October) - Went to Chicago and met with Sam Pitroda along with Raj Rajaram. Both showed great support to go forward with developing the plans and proposal. Mr. Dutta went ahead and prepared a detail, 45-page proposal and sent it to DJB on Dec 4, 2004.

2005 (February) - Tthe DJB tried to contact our (Yamuna Foundation) Calcutta Office and asked for clarifications. Mr. Dutta called them right away and told them that he would come down to Delhi in March and provide clarification.

2005 (March ) – Mr. Dutta visited Delhi and gave a presentation to the DJB on March 30th and clarified their questions and issues. Mr. Ram Koduri was also present with me during that presentation. The DJB engineers then suggested that we should revise the proposal for a smaller drain with lower flow rate. Mr. Dutta went again to 3 different sites next day morning with an engineer from DJB and picked the Kotlah Drain as a second feasible site and collected various field data.
A map of the Yamuna river watershed covering greater Delhi area showing number of site data points gathered by Subijoy Dutta during visit to Delhi in March 2005.
A satellite image showing location of the Kotlah Drain site is shown above (click it to enlarge it).
After returning to MD Mr. Dutta took help from Dr. Bill Roper (GMU) to make significant revisions to the proposal and resent that at the end of September, 2005 along with Dr. Raj Rajaram to the DJB.

Nothing has been heard from the DJB since then. In Oct 2005 Mr. Dutta met with: Mr. Rajiv Lal, Ashok Kumar Jain, Engineer and Rakesh Mohan, Chairman, DJB, but no communications from them have been received yet concerning the proposal.
4. Views and Suggestions from Sam Pitroda:
After presenting the background information on the Yamuna River, Mr. Dutta requested Mr. Pitroda to provide his views and suggestions. Mr. Pitroda commended the effort and said that he'd be willing to make phone calls to the political leaders and authorities in India as and when needed for this project. He asked for broader partnership and networking to make a stronger presence of the cleanup effort in India. He added that in order to follow up the proposals for the cleanup projects from the Yamuna Foundation in US, a local representative and office setup in Delhi would be of importance and value. Finally, Mr. Pitroda requested the participants that he would like to see a 10-point plan at the end of the day from this Summit.
Picture above shows Mr. Pitroda addressing the participants at the Yamuna Summit.
5. Discussion on Short- and Long-Term Plan:
Following a short break after Mr. Pitroda's talk the participants were actively engaged in discussing various options for the Yamuna cleanup effort. The discussion was led by Dr. Raj Rajaram who asked each participant to provide their own views towards the Yamuna cleanup plan.
A picture gallery on the following page shows most of the participants who attended the sessions.
Dr. Mahendra Bapna, a retired professor from Hillsdale, IL mentioned that he was not fully knowledgeable about wastewater treatment technologies, but suggested that he would be willing to provide coordination and other assistance to the project. Dr. Bapna mentioned that for the retired people like him and others it would be of interest to them to provide assistance if some of the travel expenses are covered by the project.
Mr. Ram Koduri, P.E., a retired chief engineer from the Chicago water authority mentioned that he would fully participate in the cleanup effort and is in full support of setting up an office in New Delhi. He offered a support facility in Hyderabad if needed.
Mr. Sunderasan (Subi) Subramanian, who worked for US Aid in Chennai for a number of years and who was instrumental in setting up a number of development projects in India, provided an assortment of ideas for the Yamuna cleanup effort. He mentioned that the low-cost, Deep Pond project installed in Hyderabad for treating the wastewater for the JNTU campus could very well be duplicated in various small towns along the Yamuna river which should help reduce the pollution load to the River.
Ms. Hema Shende, a sociologist from Wheaton, IL mentioned that she would be willing to help in interacting with the local stakeholders and provide assistance in improving social awareness of the water issues in cities and towns along the Yamuna River.
Mr. Harish Rao, an environmental engineer from Barrington, IL agreed with others about increasing local awareness and involving local stakeholders in the cleanup effort.
Mr. Sharod Deshpande, an engineer from Batavia, IL mentioned that it may be useful to involve various research centers in India to have broad views and ideas for implementing the cleanup projects. He suggested that the National Environmental Research Institute (NERI) could be involved and he has one point of contact there who could possibly help.
Mr. Praveen Bajaj, an engineer and investment advisor from IL mentioned that he is fully supportive of the effort and stressed for more local involvement in the project.
Mr. Anil Kumra, a Chemical Engineer, from Gurgaon, India mentioned that he would arrange for an office space for the Yamuna cleanup effort. He indicated that he could also locate a suitable individual who could be hired as a representative of the Yamuna foundation to assist in the cleanup effort.
Mr. Dennis Haag, a wetland biologist from Kansas provided the following concept:
Project Implementation Strategies
Three primary strategies are recommended to better educate and encourage private citizens, industry representatives, and public administrators concerning the water pollution issues and solutions for restoring water quality to the Yamuna River from New Delhi and downstream. The strategies have been organized into a triangle (Figure 2) of interactive efforts and include:
Figure 2. Conceptual Triangle of interactive efforts.
Policy Changes – New Delhi has prepared one or more master plans that include phased construction for the expansion of waste water treatment facilities. However, there has been no significant reduction of waste water pollution that enters the Yamuna River. A comparison of the water quality data over the past 10 years indicates that even with more treatment plants constructed, the amount of pollution is increasing. This is believed to be due to several factors including:
Displacement or conversion of existing natural wetland treatment communities to housing and industrial land uses

Lack of infrastructure for collection and treatment

Poor operation and maintenance of existing treatment plants

Increasing volumes of waste water that continue to surpass treatment need projections
The major goals of the policy change strategy are to:
Improve training of plant operators

Prepare new/revised treatment need studies that include accelerated expansion of existing infrastructure and treatment plants

Promote headwater treatment systems to control sources of effluents in the short term
Small Community-Based Demonstration Projects – The small demonstration project is designed for headwater communities where there is little or no infrastructure to collect and process waste water. They are intended to show how small, 3 to 5 home on-site natural treatment systems can be developed by local residents with minimal assistance. The systems can be considered as short-term solutions to a rapidly deteriorating water quality problem. Typical systems will include constructed subsurface flow wetlands, rain gardens, biogas generators, etc. that can also be designed for site beautification as well as production of selected natural resource materials. This effort will provide excellent training to upper grade school and high school students. The following components will be considered:
Identify two or three headwaters communities that need better waste water treatment

Meet with and organize local stakeholders and educators in the headwaters community and explain how a system is designed constructed, operated and maintained

Meet with local schools and environmental health advocacy groups to provide information about the program and solicit support

Prepare detailed guidelines including siting, design, and construction specification standards

Install two or three treatment systems as part of out-reach educational training workshops

Utilize local resources including labor and materials

Placard each project with name of sponsors and contacts

Monitor each completed project and provide frequent news coverage
Larger Demonstration Projects – The large demonstration project is designed for businesses and government facilities to display new and innovative natural treatment systems. They are intended to show how larger natural treatment systems, such as deep ponds, aeration basins, and constructed wetlands can be used for on-site treatment or pretreatment. The systems can be considered as long-term solutions to minimize industrial waste discharges. They call also be designed for the recycling and production of certain natural resource materials including bio fuels. This effort will provide excellent training for high school and college students as well as government and industry officials. The following components will be considered:
Identify two or three industrial complexes that need better waste water treatment
Meet with and organize local company/business stakeholders and
associated government entities and explain how a system is designed constructed, operated and maintained

Meet with local schools and environmental health advocacy groups to provide information about the program and solicit support

Prepare detailed guidelines including siting, design, and construction specification standards

Install two or three treatment systems as part of out-reach educational training workshops

Utilize company resources including labor and materials

Placard each project list of sponsors and program contacts

Monitor each completed project and provide frequent news coverage
Mr. Kul Razdan, an engineer from IL, provided a number of suggestions for the Yamuna cleanup effort. He further defined the specific stakeholder involvement as –
Local Stakeholders

State Stakeholders &

Central Stakeholders
Picture above shows Kul Razdan on the drawing board (click to enlarge).
As a follow up on the Triangle concept Mr. Razdan suggested that we should stress on – Reduction, Maintenance, and Expansion for the wastewater management in Delhi area.
In the afternoon the discussion was more lively and the participants decided to undertake the following 10-point plan to further strengthen the Yamuna cleanup effort.
Develop partnership with NGOs and many other organizations such as CII, and others.

Approach other localities in the Yamuna river watershed (e.g – Yamuna Nagar) and setup Awareness Centers.

Start a few, Very Small – Garden projects in various communities to increase awareness; move on to small projects in some of the Drainage ditches as we are pursuing; and actively interact with the policy aspect to make a significant change in their focus to an actual cleanup initiative for the Yamuna river.

Arrange stakeholder involvement in the cleanup effort on a constant basis – involve local, state, and central stakeholders

Look into sustainability of the effort, i.e - reduction, maintenance, and expansion

Develop an implementation plan in collaboration with a political champion who will ensure support and forward movement of the plan.

Design and develop the plans as their project to suit the local people.

Begin awareness amongst kids and youth groups.

Appoint a full time representative in Delhi to pursue the proposals on a daily basis and get regular feedback to correct/update the project plan accordingly.

Develop plans to treat at sources with grass root support and regular interaction to make that effective.
Picture Gallery